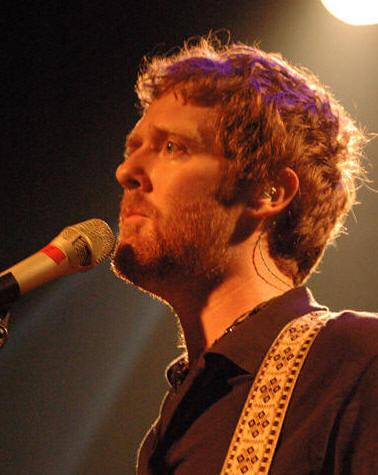 I'm virtually positive I saw Glen Hansard, leader of The Frames, star of
Once
, walking through NoHo today. It was a little after 9 pm, and I was walking west on 3rd Street, near Sullivan Street. All of a sudden I saw Mr. Hansard, or a doppleganger of his, walking towards me coming from the other direction. Not only did this guy
look
 exactly like Glen, but he was wearing a very
Once
-esque outfit, some sort of baggy folksy street-busker ensemble. I guess the latter observation might detract from the cogency of my claim, given the proclivity of Village-folk to where ridiculous clothes. However, I stand by my conviction, because the resemblance, especially his expression, was uncanny. He just had the sad, distant look in his eyes (see picture) that he kept on repeat throughout the movie. 'Mr. Hansard' was not alone, walking alongside him was a pretty young thing wearing black sunglasses (at night!) under a wide-brimmed black hat. She definitely wasn't Marketa Irglova, but then it wouldn't have made sense if she were, now would it?
Taking this opportunity to plug
Once
: good movie, but the songs in it were actually fantastic. That was the part of the movie I
didn't
 expect to like.